My Blog
Posts for: March, 2018
By Crabapple Family Dentistry
March 16, 2018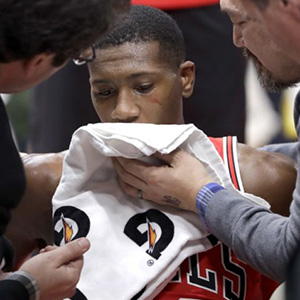 For lots of sports fans, March is the month to get caught up in basketball "madness." But many people forget that basketball—whether it's played on a school court or a big-city arena—can be just as dangerous for your teeth as some "full-contact" sports. Just ask Chicago Bulls point guard Kris Dunn. In the last three minutes of the January 17 NBA game between the Bulls and the Golden State Warriors, Dunn stole the ball and went in for the dunk. But the momentum from his fast break left him tumbling head-over-heels, and his face hit the floor.
The game stopped as Dunn was evaluated by medical staff; they found he had dislocated his two front teeth. The next day, the Bulls announced that his teeth had been stabilized and splinted—but Dunn would be out indefinitely because of a concussion.
Teeth that are loosened or displaced are known in dental terminology as luxated. These are fairly common dental injuries in both children and adults—but surprisingly, they don't always produce painful symptoms. Treating luxated teeth generally involves repositioning them and then splinting them in place for stability. Depending on the severity of the injury, the outlook for splinted teeth can be quite favorable. However, it may involve several treatments over a period of time—for example, a root canal if the tooth's inner pulp has been damaged, and possibly additional restorative or cosmetic work.
If the injured teeth can't be saved, they can usually be replaced by dental implants or a bridge. Bridges rely on adjacent teeth (also called abutment teeth) for their support. These teeth must be prepared (reduced in size) to accommodate the dental crowns that will hold the bridge in place, as well as the ones that will replace the missing tooth or teeth. Dental implants, today's gold standard of tooth replacement, are supported by root-like inserts made of titanium that are set directly into the jawbone. These dental implants support lifelike crowns that look and feel like natural teeth, and can last for years with routine care.
Better still, many dental injuries can be prevented by wearing a protective mouthguard. We can provide a custom-fabricated mouthguard, made from an exact model of your bite, which offers the maximum in comfort and protection. This is a vital piece of safety equipment that should be part of every sports enthusiast's gear.
With good dental care, it's a sure bet that Kris Dunn will be smiling when he returns to the court. We wish him a speedy recovery.
If you have questions about treating injured teeth or obtaining a custom mouthguard, please contact our office or schedule a consultation. You can read more in the Dear Doctor magazine articles "Trauma and Nerve Damage to Teeth" and "Athletic Mouthguards."
By Crabapple Family Dentistry
March 01, 2018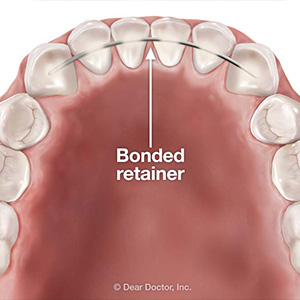 A lot of time and effort goes into straightening your smile. But there's a possibility it might not stay that way—and all that hard work could be lost. The same natural mechanism that enables your teeth to move with braces could cause them to revert to their old, undesirable positions.
So for a little while (or longer for some people) you'll need to wear a retainer, an appliance designed to keep or "retain" your teeth where they are now. And while the removable type is perhaps the best known, there's at least one other choice you might want to consider: a bonded retainer.
Just as its name implies, this retainer consists of a thin metal wire bonded to the back of the teeth with a composite material. Unlike the removable appliance, a bonded retainer is fixed and can only be removed by an orthodontist.
Bonded retainers have several advantages. Perhaps the most important one is cosmetic—unlike the removable version, others can't see a bonded retainer since it's hidden behind the teeth. There's also no keeping up with it—or losing it—since it's fixed in place, which might be helpful with some younger patients who need reminding about keeping their retainer in their mouth.
There are, however, a few disadvantages. It's much harder to floss with a bonded retainer, which could increase the risks of dental disease. It's also possible for it to break, in which case it will need to be repaired by an orthodontist and as soon as possible. Without it in place for any length of time the teeth could move out of alignment.
If you or a family member is about to have braces removed, you'll soon need to make a decision on which retainer to use. We'll discuss these options with you and help you choose the one—removable or bonded—that's right for you.
If you would like more information on bonded retainers, please contact us or schedule an appointment for a consultation. You can also learn more about this topic by reading the Dear Doctor article "Bonded Retainers: What are the Pros and Cons?"