My Blog
Posts for: February, 2015
By Crabapple Family Dentistry
February 23, 2015
Accidents can happen to your mouth, especially if you have an active lifestyle. For example, a sudden blow to the jaw while playing sports or exercising could result in a chipped tooth. And, while the internal tooth structure may be fine, the effect on your appearance can be disheartening.
Fortunately, we have techniques and materials to restore your smile after an injury. Bonding with composite resin is one such procedure: it's ideal for mild to moderate chipping, especially in highly visible front teeth.
Composite resin is a dental material made of various substances mixed to match the color and texture of natural teeth. The composite is usually made of inorganic glass filler blended with a plastic-based matrix and joined together with a chemical "coupling" agent. The ratio of filler to matrix will depend on the type of tooth and damage — for example, back teeth, which encounter higher biting forces, require a composite with more filler for added strength.
To begin the procedure, we first prepare the damaged tooth by applying microscopic etchings (often with a chemical solution) that create tiny depressions or "undercuts": these help create a seamless bond between the composite and the natural tooth. We then apply the composite in layers with a bonding agent, building up layer upon layer until we've achieved the desired shape for the tooth involved.
Bonding with composite resins doesn't require much tooth preparation, can be placed quickly and is relatively inexpensive. Because of the wide spectrum of color possibilities, composite resins are superior to traditional amalgam (metal) restorations in creating a more life-like appearance. Its application, however, can be limited by the amount of tooth structure needing to be replaced: because it isn't as strong as the tooth structure it replaces, the more tooth structure the bonded composite resin attempts to replace the less likely it can stand up over time to normal bite forces.
Still, composite resins are ideal for mild to moderate damage or disfigurement. If you've suffered such an injury, be sure to visit us to see if bonding with life-like composites is the right solution for restoring your smile.
If you would like more information on bonding with composite resins, please contact us or schedule an appointment for a consultation. You can also learn more about this topic by reading the Dear Doctor magazine article "Repairing Chipped Teeth."
By Crabapple Family Dentistry
February 13, 2015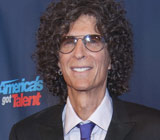 Is there anything that radio and TV personality (and self-proclaimed "King of All Media") Howard Stern doesn't want to talk about in public? Maybe not — but it took a caller's on-air question to get the infamous shock jock to open up about his own dental work.
When he was directly asked if his teeth were capped, Stern said no. "I redid 'em [some time] ago… I had bonding and um… veneers… over my real teeth. But I don't get that 'Hollywood white' though," he said, before adding his uncensored opinion on the subject of proper tooth shades.
As we're sure Stern would be the first to point out, everyone has a right to their own opinion. But we're pleased that Howard brought up an important point about veneers: They are custom-made in a whole range of different shades, from a more 'natural' tooth color to a brilliant white shine. Which one you select depends on what look is right for you — and that's your choice.
In case you aren't familiar with veneers, they are fingernail-thin coverings made of porcelain, which are bonded onto the surfaces of the teeth. This enables them to hide a number of defects — like chips, discoloration, and even small irregularities in spacing. They can also be used to lengthen teeth that seem out of proportion to the gums, lips or other facial features.
Veneers are among the cosmetic dental treatments most favored by Hollywood stars… as well as regular folks who want a dramatic improvement in their smile. Unlike crowns (caps), which generally require extensive reshaping of the tooth, standard veneers require the removal of just fractions of a millimeter of tooth surface. That makes them a minimally invasive method of smile enhancement that can make a big difference in your appearance. In fact, veneers are often a major part of a complete "smile makeover."
Dental veneers are custom made in a laboratory from a mold of your teeth. They are designed to fit your teeth perfectly — and to be just the shade you want. When you come in for a consultation, we will discuss what you like and don't like about your smile, and how we might improve it. Will you opt to get the brilliant "red-carpet" smile you always wished for… or go for a subtle, more natural tooth color? Only you can decide.
Howard Stern's veneers may be the most restrained thing about him… but we're just glad that veneers helped him get the kind of smile he wanted. You can, too. If you would like more information on dental veneers, please contact us or schedule an appointment for a consultation. You can learn more about this topic in the Dear Doctor magazine articles "Porcelain Veneers" and "Porcelain Crowns & Veneers."